Smart marketers are now acknowledging that apart from Twitter & Facebook, there is another social media channel – Pinterest. It has a unique brand & content marketing potential. Evolved from being a place for DIY lovers & homeowners to be a powerful and influential social media platform.
Startups, SMEs and big brands are marketing their products/services over Pinterest. We will talk about how to use Tailwind to better your Pinterest marketing game.
A few reasons to do marketing with Pinterest are as follows:-
Increased Brand Awareness
Drive Organic Web Traffic
Bring New leads
Improve the Odds of Making Sales
But, to avail all the above-pointed perks of Pinterest marketing, you'll have to do more than making a board and publishing pins. How? You've to gauge the performance of your Pinterest campaign. This will guide you to build a well-research, practical Pinterest strategy to drive measurable results.
When you analyze the metrics, you understand what you're doing wrong, and where you need to tweak your strategy a bit to turn the tide in your favour.
I've curated a complete guide on 'How to use Pinterest – Under Dog of Social Media for Online Business' make sure you go check it out.
Before we go any further I've something to declare:
This post contains affiliate links, meaning that if you choose to click through and make a purchase, I will receive a small commission at no cost to you.
With the above in mind, today, in this post, we'll discuss Tailwind. It is an exclusive tool for Pinterest marketing management & tracking. We'll be covering these topics.
Publishing your favourite recipe or DIY trick on Pinterest seems fascinating. But not when you use Pinterest as a marketing weapon to drive traffic to your website/blog, you need help. Or in other words, you need Tailwind.
It is a practical Pinterest marketing tool that lets you discover & publish relevant content. You can expand your reach and maximize the performance of your Pinterest strategy.

Tailwind is known as an efficient scheduler for Pinterest. It is an all-in-one toolkit; it lets you:-
Upload Your Images
Publish Your Pins at Optimal Time
Measure & Analyze Your Pins Performance
Reach to Broader Audience Base Via the Tailwind Tribes
The scheduling & uploading feature is the biggest talking about Tailwind. Not only does Tailwind give you the freedom to schedule your posts for any time zone, but also provide right guidance on the optimal time to publish. Which is with regards to your specific audience. You can either schedule pins or add to the queue using Tailwind.
Now, coming to the analytics & reporting. With the use of the Pinterest API, Tailwind provides all the insights details on your Pinterest performance. An excellent dashboard to see you newly gained followers, repins, comments, and pins.
You can also check your engagement & virality score. It is to know whether your pins are resonating with your prospective audience base or not.
The board insights provide you with similar details, but at the board level. You can check the full month's or last seven days of insights. This includes followers, comments, repins, pins, and comments, followed by virality & engagement rating. You can sort all the data by column.
The Pin inspector feature drills down to the performance of the individual pin. Just like the board insights, the data is illustrated in a tabular form.
In addition to the dashboard, you get a high-level weekly report delivered to your Inbox.
If you connect your Google Analytics to Tailwind, you can track your domain's performance. The referral report shows the daily visit, visitors, pageviews to your site from Pinterest.
By now, you can easily deduce if Tailwind is worth the dollars if you are into serious Pinterest marketing for your business/brand. In our next segment, we've curated a min-tutorial on how to schedule a pin on Pinterest using Tailwind, let's find out.
Get your Tailwind for Pinterest FREE TRIAL
How To Schedule Pins on Tailwind?
Here is the step-by-step guide to scheduling pins on Pinterest:-
1: Sign up on Tailwind
First things first, you've to create a Tailwind account. The best thing about Tailwind is that you get a FREE trial as you join. So, you can implement all the steps without spending a penny.
And, after the trial, you can determine whether Tailwind packages are worth your buying or not. If you are still not sure at the end of the trial period, you can give a month's try to clear your doubts.
2: Set Up Your Smart Scheduler
Once you've created your account, the next step is to schedule your pin, and Tailwind term this feature as "Smart Scheduler." Essentially, you need to tell Tailwind how often you want to pin. Based on your data, this tool will create a personalized scheduling timetable.
The motive is to ensure the highest engagement for your pins. To set up your smart scheduler, you've to go to the Publisher>> Your Schedule.
If you're just starting with Tailwind, then I recommend opting for not more than 5-10 pins in a day. It is better to understand the working of Tailwind in at first, before getting overwhelmed by posting pins in bulk.
3: Install the Extension on Your Browser
Now, you need to install the extension of Tailwind on your browser; this will further save time and efforts required to schedule pins.
You can easily find & install the Tailwind extension on chrome. So, whenever you hover over any image over the internet, you'll see an easy schedule button. Tailwind extension is also available for Firefox & Safari.
4: Save Your Pins on Tailwind Drafts
It's time to schedule some pins, that's what we are all eagerly waiting for. There are a myriad of efficient and convenient ways to do so, but I found the browser extension method most suitable for marketers with limited time. Keep on adding pins to the drafts of Tailwind, and then schedule them easily.
You need to go to the pinnable image in your blog post. Hover over the image you want to pin; then the Tailwind schedule button will show on the bottom left corner.
When you click it, a new window will display. You can either schedule the pin at that moment or close the window if you want that pin to be saved in the Tailwind drafts section. Repeat this process until you've several pins to choose from when scheduling them.
5: Schedule Your Pins
Now, log back to your Tailwind account, and then select Publisher>> Drafts. You'll be taken to a new screen where you see all the pins, waiting for your schedule.
Go to the pin you want to schedule. Check whether the title and its description are good, easy to ready and have the search keywords to be easily found on Pinterest. Also, include all the relevant hashtags.
Next, it will ask which board you want to publish, select from the drop-down menu. You can opt between your board or your group board. Or, you can type a couple of letters, and the board name will appear to save search time.
And, finally, click Add to Queue, and the pin will be scheduled for publishing in the next slot.
Repeat the above for the draft pins you want to publish.
6: Shuffle Your Pins
With a queue, the pins will be published in an orderly manner, what if you shuffle them. Is it possible? Yeah! This way, you'll be able to publish a variety of pins daily.
Click on the shuffle queue; then you've to click yes shuffle my queue on the pop-up. After this, all your pins will be shuffled, and you'll see a mix of pins to a variety of boards every day.
7: Pinning Other People's Stuff
Yes, you can pin stuff of other people to your Pinterest board using Tailwind. It is good to increase engagement for group boards. It will make your board more existing & useful.
You can schedule other people's pins in the same way you do yours.
8: Schedule Directly From Pinterest
To directly publish pins from Pinterest, you've to log into your Pinterest account and explore boards. On every pin, you'll see the Tailwind schedule button. Click add, and pins will be saved in your drafts, then schedule the pins in a way you did earlier.
9: Schedule Multiple Pins
You can select multiple pins from the Pinterest board and schedule them right away. Thus, eventually saving your time. First, click the different pins you want to schedule, and then hit co-schedule in the bottom right corner—finally, the schedule from the drafts.
After scheduling the pins, let's have a look at the various features of Tailwind.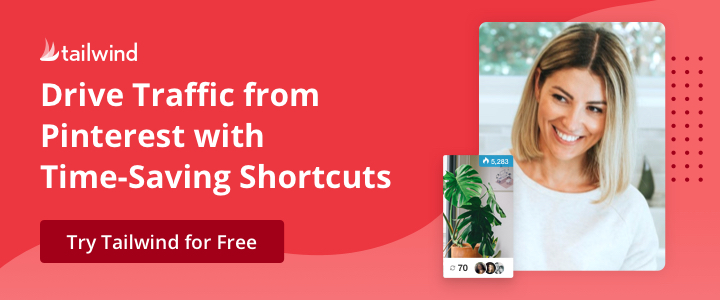 Features of Tailwind's Pinterest Scheduler
Here, we enlist the powerful features of Pinterest, let's find out:-
1. Smart Schedule
You can schedule pins at optimal times of your target audience. With the Tailwind Smart Schedule, you can specify the different times during the day you want to schedule your pins.
When you schedule a pin, you have the option to pick a time or add to the queue to the next slot. The Smart Scheduler will also tell you the Smart times to publish based on how people interact with your content.
2. Board Lists
It is another great feature of Tailwind when it comes to scheduling content. You must think about the blog and the different categories you want to publish related pins.
Use Tailwind board lists to create a dedicated list for each category, get creative, and drive more engagement.
When scheduling a pin, you'll be asked which board you wish to publish it. Besides, you can select a time interval, as you don't want the different pins for different boards to be published all in one go. The order in which you list your boards, your pins will be scheduled in the same manner.
3. Board Insights
Tailwind also has an additional feature known as board insights. It provides details such as when was the last time you published a pin for a particular board, virility and engagement score also.
4. Virality Score:
It is the number that is determined after dividing the number of repins by the total no of pins, the bigger the number, the more viral your pin is.
5. Engagement Score:
This score takes the vitality score and divided by the number of followers you have. Does it tell how engaging your content is? The greater the engagement score, the better it is.
You can list the board lists based on the engagement & virality score.
Finally, the board insights provide information when was the last time a pin was published. So, if you are not regular, then it is essential to be active.
6. Pin Inspector
Next in the list of analytics features is the Pin Inspector. It tells how many repins you have bagged for a particular pin. To bring greater engagement, you can reschedule the most popular content for your other boards, both personal or group boards.
7. Tailwind Tribes
Tailwind lets you find all the relevant content of other people on Pinterest, and share on your boards. With the help of a tribe, you can add your content, and it will show up in the main feed of the Tribe.
Each Tribe has its own set of rules put forth by the tribe owner. It is highly advisable to re-share some more content, then you add to a tribe.
The tribes are divided into two categories, one is the Tribe By Association, and other being Tribe by Topic. You can find a Tribe by Association, and you can join based on who you know. It may include fellow bloggers or a group of best pals.
It is simply an initiative to support one other Pinterest profile. Generally, the tribes are not based on similar topics; sometimes, the content may not be relevant.
The second type is to join tribes based on the specific niche. Typically, most of the pins are in accord with the content you are sharing. This type of Tribe is ideally-suited for finding great content quickly.
A significant aspect of the Tailwind tribes is that you don't need a paid version of this social media marketing management tool. But, you'll be restricted to the tribes you can join, and how many pins you can add.
8. Content Discovery Feature
This feature of Tailwind is still into Beta testing; you've to specifically list this feature to be added to your account. It is an extra feature that will cost you extra. You can add your favourite sites to your RSS feed. You can discover content over the World Wide Web using keywords.
The next section is the Tailwind Tribes; let's find out what they are.
How to Use Tailwind Tribes to Gain More Traction
The Tailwind Tribes let marketers & bloggers connect and share each other's content. A tribe is a group of Pinterest users sharing the same content.
The tribes live within the Tailwind platform. The members of a tribe can be marketers those who want to promote their content, as well as bloggers looking for tips and advice on growing their reach.
Each member of the Tribe is allowed to publish their pin, while other members have to share them on their Pinterest board.
Although the tribes operate like the group boards, the former is far more effective.
How do tribes function? Each Tribe has its own set of rules; these include the kind of content the members can publish, along with the reciprocal sharing rule.
This means for every pin you add to a tribe, you've to share one pin on your Pinterest board with another tribe member.
Now, coming to how to find tribes? Now that you know what tribes are, and how they work, the next step is to find them.
First, you've to create an account on Tailwind; then you'll be able to find & join tribes. Once you're on the tribe window, you've to hit Find a Tribe, on the left-top corner of the screen.
This will again take you to a new screen, where you'll be allowed to search tribes by topics. For instance, you are travel-bloggers; you probably want to join tribes related to this specific niche.
When you type the word in the search box, all the relevant tribes will come up.
Tailwind provides complete detail of each Tribe, to help you decide whether it is worth a joint request or not. For each Tribe, you must check the following:-
The Type of Content You Can Share
The Tribe Rules.
The Number of Members in the Tribe.
Level of Tribe Activity.
There is a direct button on Tailwind to join a particular Pinterest tribe. The blue button means that the group is private; you've to make a joining request. While, the green button means anyone can join, and start adding pins.
Ideally, you must join private tribes with a high-activity level, and more than 100 members.
You've to be picky with the tribes you join, as the trial version of Tailwind allows you to join five tribes.
Once you've joined a tribe, you can add content and share pins from it. There are various ways to add content to the Tribe, then the best one, in my opinion, is the Tailwind browser extension.
Hover on any image; you'll see the add to schedule when you click it, you'll be asked to add to the queue the image, also there will be a small button Add to Tribes.
When you click Add to Tribes, a small window will appear with all the tribes you are part of; you can select the Tribe where you want to add the pin.
You'll see a red warning icon if you've already saved the pin to a particular tribe. It is imperative to know that most tribes have a stern ruling against the duplicate pins.
How to share content from Tribes? Sharing is much easier than adding pins to the tribes. Go to the Tribe, and you'll see all the pins. Pick any by clicking in Type a Board Name. Type a few characters, and you'll see the desired board.
Before publishing a pin to your personal or group board, you can tweak the title & description as per your preference, and add hashtags too. You can pick a custom date & time to publish the pin.
After learning about the Tailwind tribes for Pinterest, next is how to repin using this social media tool.
How Do You Repin on Tailwind?
A repin is when you save someone else's, Pinterest Pin. You can repin from the Pinterest app or website, but also a top-ranked tool known as Tailwind. When you've pinned from Pinterest, then it is known as direct repin. The owner of the pin will be notified that you've saved their pin.
But, when you repin using Tailwind, then it won't be shown as a repin. How? This scheduler submits the pin to Pinterest as a fresh one.
To repin on Tailwind, you need the pin URL or bumped on a right pin. When you hover over the pin, you'll see the tailwind schedule button. Then, when you click it, you'll be taken to a new window, where you add the pin to the queue, you can move out, and that pin will remain saved in the Tailwind drafts.
You can later revisit the drafts, and schedule the pin for publishing. And, the best part, the creator of the pin will never know you repainted their post. It is recommended that you change the title, description, and hashtags of the pin for a fresh start.
Conclusion
So, we've reached the end of the article, and now you know how useful the Tailwind tool is for Pinterest marketing. But, if you are still not convinced with this tool, then you can opt for the FREE Trial version, and if you like it then you can buy the paid version.
FAQ
What's Included in the Tailwind Free Version?
You can schedule up to 100 Pinterest Pins before you decide, worth you need to buy the Plus Plan. Whether the FREE trial version lasts for five months or five minutes, it's up to you.
Is Tailwind an official Pinterest Partner?
Yes, Tailwind is the official partner of Pinterest known as the Marketing Developer Partner.